Artificial Intelligence Is a Gamechanger for Retail Execution
The trifecta of Sales Force Automation (SFA), machine learning and Artificial Intelligence (AI) is creating waves of excitement across the CPG industry, especially in terms of retail execution. The promise of eliminating costly and time consuming manual tasks during a store visit in favor of analytic-driven selling conversations will be a game changer for field reps.
You see, Consumer Goods brands generate a colossal amount of global business data every day. Machine learning algorithms and analytics generated by SFA and AI will arm field reps with data that is not just accurate and insightful, but action-based.  The results will be similar to making a purchase on Amazon and automatically seeing a list of products "you may also like" pop up on the screen.
With a growing number of distribution channels and consumers calling the shots, using a combination of AI and SFA will increasingly become a differentiator in the CPG space.
According to market research company IRI, organizations will be using AI to proactively identify outperforming brands, find new growth pockets, and level the playing field among large organizations.
Here are a few examples of how smart technology can positively impact the way field reps utilize the limited amount of face time they have with retail partners:
AI will make CPG organizations more agile and responsive.
AI-driven solutions can process and analyze large vol­umes of data and learn to flag critical information for review. CPG organizations will become more agile and responsive to pricing, shelving, and merchandising strategies on-the-spot.
Photo recognition apps fueled by AI will accelerate in-store tasks.
Within seconds, a photo can detect misplaced SKUs and out-of-stocks enabling field reps to address issues with retailers before leaving the store. Speedy shelf management and instant resolutions handsomely rewards field reps with more time to sell.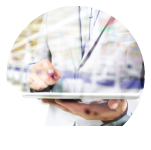 Field reps can provide a hyper-personalized service experience to retail partners.
Retailers are under a lot of pressure and appreciate intelligent insights based on their customers and their geographic location. Field reps who can share AI-driven insights on product trends and consumer behaviors will strengthen their relationship with retail partners and generate more sales.